New kittens
Our little beauties have such individual personalities! Do you want an energetic playful companion? Would you prefer a loving lap sitter who loves being stroked? Let me know what type of kitten will suit you and your family. They are fully vaccinated,wormed, microchipped and vet checked and ready for their new homes when 12 weeks old.
Jateki kittens are litter trained and are not fussy eaters. Occasionally it takes a bit of extra time for a kitten to settle in to a new home and feed on a regular schedule again.
Cats are such playful and social animals. I urge you to live with at least two cats who can keep each other company when you're out. To encourage multi cat families, I offer a special discount when purchasing two or more kittens.
Please contact me for more details about individual kittens and pricing. Phone - 07 40966700, mobil - 0408454686 or email -
Kittens for sale
NEW KITTENS!
Please call or email to enquire on new litters.
If you are looking for a beautiful and loving companion please contact me to register your interest. Phone - 07 40966700, mobile - 0408454686 or or email -
Kitten Gallery
Burmese Kittens
Burmese are a beautiful companion cat. They have a quiet and loving nature. They will give you all the attention you want and more. They do like a bit of adventure as well but would rather be sitting on your lap being petted.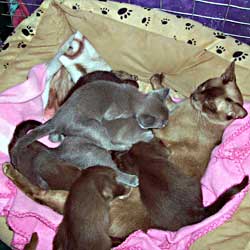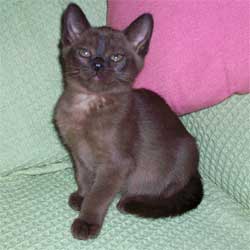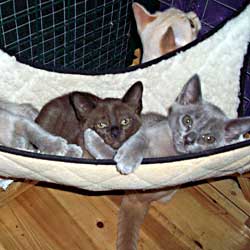 Tonkinese Kittens
Tonkinese are a beautiful combination of the Burmese and Siamese breeds.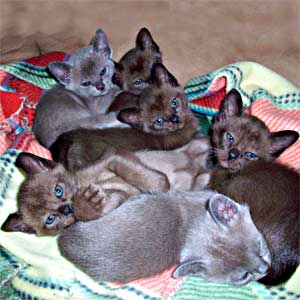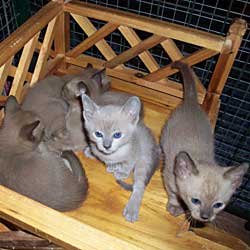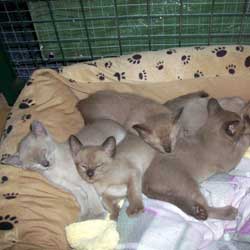 Burmese Exotic crosses
These beautiful girls are a cross between my Exotic girl Tanika and my Burmese boy Merlin. They have the beautiful nature and points of the burmese and the soft plush coat of the exotic shorthair. Their coat colour is blue cream and brown cream. The litter also produced two beautiful red cream boys.
They are very easy care and loving kittens. These two georgous girls have settled into their new home with Cassie and Rob Skinner who totally dote on them. Lucky girls. These photos were kindly sent to me from Cassie.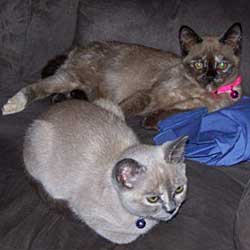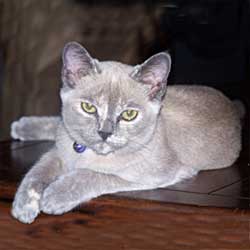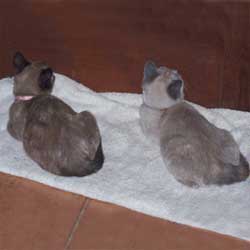 Such Cute Kittens
f